Pokemon Home

Pokedex

Price Guide Set List

Message Board

Pokemon GO Tips

Pokemon News

Polls & Trivia

Featured Articles

Trading Card Game
- Price Guide
- Price Guide
- Card of the Day
- Professional Grading
- Killer Deck Reports
- Deck Garage
- William Hung
- Jason Klaczynski
- Jeremy's Deck Garage
- Johnny Blaze's Banter
- TCG Strategies
- Rulings Help
- Apprentice & Patch
- Apprentice League
- Spoilers & Translations
- Official Rules
- Featured Event Reports
- Top of the World
- An X-Act Science
- Error Cards
- Printable Checklist
- Places to Play

Nintendo Tips
- Red/Blue
- Yellow
- Gold & Silver
- Crystal
- Ruby & Sapphire
- Fire Red & Leaf Green
- Emerald
- SNAP
- Pinball
- TCG cart
- Stadium
- PuPuzzle League
- Pinball: Ruby/Sapphire
- Pokemon Coliseum
- Pokemon Box
- Pokemon Channel

GameBoy Help
- ClownMasters Fixes
- Groudon's Den
- Pokemon of the Week

E-Card Reader FAQ's
- Expedition
- Aquapolis
- Skyridge
- Construction Action Function
- EON Ticket Manual

Deck Garage
- Pokemaster's Pit Stop
- Kyle's Garage
- Ghostly Gengar

Cartoon/Anime
- Episode Listing
- Character Bios
- Movies & Videos
- What's a Pokemon?
- Video List
- DVD List

Featured Articles

Pojo's Toy Box

Books & Videos

Downloads

Advertise With Us
- Sponsors
- Links

Chat

About Us
Contact Us
Buy & Sell Pokemon Cards Here!
Magic
Yu-Gi-Oh!
DBZ
Pokemon
Yu Yu Hakusho
NeoPets
HeroClix
Harry Potter
Anime
Vs. System
Megaman

Pojo's Pokemon News

WALK THE WINNER'S PATH ROUTE WITH YOUR FAVORITE POKÉMON

Pokémon and Nintendo Offer Special Pokéwalker Route Distribution for a Limited Time

May 5, 2010 -The Pokémon Company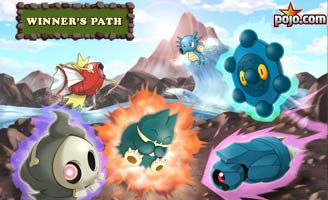 International and Nintendo of America Inc. will distribute the Winner's Path Route for the Pokéwalker™ accessory via the Nintendo® Wi-Fi Connection service. Beginning Thursday, May 6 through Friday, June 25, players of Pokémon HeartGold or Pokémon SoulSilver Versions who have wireless broadband Internet access will have the opportunity to unlock a new Route, which gives them a chance to discover extraordinary Pokémon and rare items particularly useful to the competitive Pokémon Trainer.

Pokémon fans who earn enough Watts on the Winner's Path Route might discover a Munchlax that knows Selfdestruct, and useful items such as the Focus Sash and Choice Band. They may even find a Magikarp™ that learns the move Bounce when it evolves into Gyarados™. All Pokémon captured in the Pokéwalker will be holding useful items that are difficult to attain during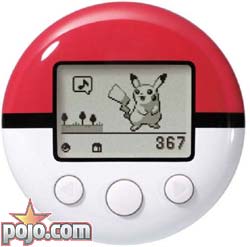 normal gameplay.

This unique distribution event is only available for a short time and may provide players with the edge needed to outplay their opponents during the 2010 Pokémon Video Game Championships. For more information about championship events or Pokéwalker distribution, players should visit www.pokemon.com.

About the Pokéwalker
The Pokéwalker accessory is a small device that lets players take their favorite Pokémon with them wherever they go. Players can transfer a Pokémon to the Pokéwalker and then simply walk around in real life. By walking, players earn Watts that can be used to encounter and catch wild Pokémon, or search for hidden items. The Pokémon in the Pokéwalker will gain Experience Points as the player walks, and can even go up one level when they are transferred back into the game.

Copyright© 1998-2009 pojo.com
This site is not sponsored, endorsed, or otherwise affiliated with any of the companies or products featured on this site. This is not an Official Site.