If there was one problem with the summer of 2003 it was that even though PotC was a Disney film, they eschewed their popular marketing blitz that usually accompanies a blockbuster release. Either mousey executives were too cautious or too afraid that their efforts would be wasted. Little did they know that they would be stoking the fires of public interest in ALL things piratical, and pirate fans would be clamoring for merchandise. Of course, other companies were ready to step into the void, and we were treated to games like WizKids' Pirates, however, it would be three long years before real PotC gaming merchandise would appear. The first salvo comes from our fabulous friends at Upper Deck, and it's actually titled "Pirates of the Caribbean: Quickstrike Trading Card Game" and the first set is called "Dead Man's Chest" coinciding with the first of two sequels.
Quickstrike is a new game engine from Upper Deck; it's based somewhat on their Shaman King trading card game, but with some new mechanics. The most revolutionary of which is the "Chamber Card" (borrowed directly from the previous game), which represents the character you've chosen to play with. Each starter comes with two chambers and two 30 card playable decks. These decks are 100% random; you might get a super-rare Gold Doubloon card in your starter. Those two decks won't be enough to make your own competitive tournament deck though, for that you'll need to purchase or trade for a lot more cards, but let's not get ahead of ourselves. Let's check out the contents of that starter box, shall we?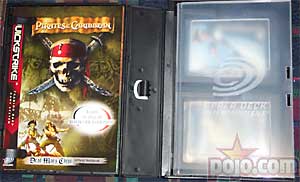 - What's In your Udeck Box? -
The case is actually the same size as a DVD case, and like a DVD case you can change out the slipcovers. There are five additional covers available on Upper Deck's official site for you to download and print, but I'll be willing to be that there are fan customs being done already. In fact, that gives me an idea for a contest – but you'll have to check the PotC forums because I'm not going to reveal it here.
The rules and your play-mats are housed in the left hand side, and your cards are held in a very durable card tray on the right which has it's own snap-style lid. In each starter you get one rulebook and two of the same play-mats. From what I understand there are also cloth backed playmates available from Upper Deck as promos. One side of your play mat also has a sample game between Will Turner and Davy Jones (which coincidentally was the first game I actually played, since those are the Chamber Cards I got in my first starter. Remember, starters are 100% random, though you're guaranteed to get two chambers, and at least two rares.)
The design of this box is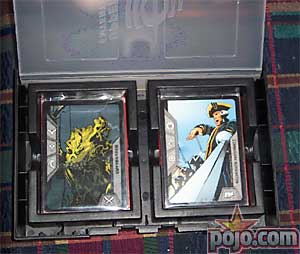 fantastic, each box will hold at least a 60 card constructed deck, even if the cards are in sleeves, and these babies are 100% customizable. By the way, Udeck boxes are coming soon for pretty much every UDE game, except for Yugioh! Yes, Versus is getting them, supposedly.
With your first starter set you're going to want to keep the two decks separate. Open up one of the wrappers and check out the Chamber Card, that's the triple thick/double-sided card right on top. You'll notice there's a rectangular shaped tab with rounded corners on the top, if you grasp this tab and pull up gently, you'll find that Chamber Cards' hidden signature move. Each side of the card has a different signature move, the first, on the side with the traits that character can use on the left side of the card, is stronger than most other strike cards in the game, but weaker than the signature move on the back. We'll get back to signature moves later, so just slide that signature move right back in the card. You won't be doing any damage to the card itself by sliding the signature move in and out; these cards are designed to take some pretty heavy use. One of the first Chambers I got was a Lord Beckett, and the signature move didn't really want to come out at all. My wife grabbed it, pulled and I thought it tore. Turns out, it's fine, that card had a little extra "flash" on the sides that slide, so it wasn't damaged at all. Chamber Cards being too thick and also being double sided will not fit in a standard card sleeve, however they work just fine in a plain old penny sleeve, so that's what I suggest you store your Chamber Cards in. If you're trading Chambers, you'll have to stick them between two different top-loaders and just tape that bad-boy in, because they will not fit in most top-loaders.
Now that you've checked out your character card, check out the rest of your 30-card starter deck. You'll notice there are three types of cards; cards with blue borders are called Strikes. They represent the main action in the game, having both an Intercept (your defense) and a Force (your attack) statistic. They, like every other non-Chamber card in the game, also have payment costs on the left side of the card, the numbers in the green, yellow and red sections represent how many of each energy type you need to pay to play this card. Finally there is a text box containing any special abilities the card has, and flavor text of course. The artwork in this game Is done entirely by Cold Fuzion Studios, and appears to be drawn from the upcoming Pirates comic books from Disney (a taste of which has just been published in the most recent Disney Comic Adventure Digest magazine, on sale now). Some of the interpretations are a little off (Jack Sparrow doesn't look a thing like Johnny Depp in my opinion), but the card art is nicely dynamic with a great mix of character studies and action sequences.
For your first game you're going to ignore the icon in the top left corner of your cards, but going forward, these icons represent the type of Trait required to play that card. Each Chamber Card has two different attack traits, one ally trait and one advantage trait. Only cards with those icons on them can be placed in a deck utilizing that Chamber Card. Sounds complicated, but it really isn't, just remember, if a card has a trait that isn't listed on your chamber card, it can't go in your deck. For your first few games though, you're going to want to ignore those trait markers, just to get a feel for the mechanics.
As you look at your strike cards, take special notice of your Intercept number, that's your defense, when you're being attacked you'll have to have your Intercept be equal to or greater than the value of your opponent's Force. Strike cards are the only cards than have these two values printed on them.
Pink colored cards represent your Allies; these are cards representing your friends who assist you in battle. These cards also have a payment cost printed down the left side, and you can only have one ally deployed into each of your play zones, for a maximum of three at any given time. You can play multiple copies of the same ally in each zone if you desire. Allies can be very important in this game, not only for their own intrinsic game effects, but also for the effects from other cards which utilize your in play allies, however, due to the fact that you can only have a maximum of three in play at any given time, it's not wise to overload your deck with allies. Finding the right balance it completely up to you. Some allies have the keyword "Deploy" which usually involves an additional payment cost of some kind. If you use this keyword you can move that ally to an empty space, an action that is normally not allowed.
Advantage cards are exactly what they sound like. Gold colored borders give you a temporary game advantage, and also charge the zone in which you play them. We'll look more at charging your zones in a few minutes. Each Advantage has a payment cost just like strikes and allies. Some advantage cards have an additional keyword "Immediate", if this is the case, then the card effect happens immediately, you charge your zone, and then you discard the card. All other Advantages are played into your advantage zone and stay there until your next "clean-up" phase.
- Playing the Game -
As with most CCGs Quickstrike relies on a payment system to balance game play. Unlike most CCGs, Quickstrike has no hand. To start a game, lay out your play mat next to your opponents. You'll notice you have three zones, a green zone, a yellow zone and a red zone. These zones represent your power level. A game represents a duel between two characters, your health, represented by your energy levels, will ebb and flow during game play, and running out of energy is not a game losing condition. Instead Energy is replenished at the beginning of almost every turn.
To start the game you shuffle your deck and deal out three cards face down in each of your three zones. This represents your starting energy. Next, turn up the first four cards of your deck in your discard pile. Count the number of Force available on those cards and compare to the same number of cards from your opponent. Whoever has the most force CHOOSES who gets the first attack. It may not always be in your best interest to attack first, especially if you need energy, however in most of the time it will be.
Each player's turn is broken down into four phases. The first is clean up, which you don't do on the first turn. Every subsequent turn during your clean-up phase, you discard the strikes you've counterattacked with previously, and all advantages from your advantage zone. You do not discard Allies.
Phase two is the replenish phase, during which you get one additional energy from your discard pile to your energy zones, based on which zone your attacker stopped your attack from and counterattacked. (More on this a little later).
Phase three is where you check to see if you can play your signature move. If you can (you have all three zones charged), then you follow the instructions on how to play a signature move (listed below), instead of flipping from your deck.
The last phase is the flip phase. If you cannot play a signature move, then you attempt to defend yourself against your opponent's attack by flipping the top card of your deck into your green "Flip Here" section.
- Opening Attack & Defense -
The opening attack is always a strike with a Force of 4. To make the first attack you merely declare the opening attack with "Force 4". It is now your opponent's turn. They begin their first turn by adding a green energy by taking their top card from their discard pile and turning it face down in their green energy zone. They now have four green energy, three yellow energy and three red energy. The object is to stop the attack with a suitable strike card with an Intercept value equal or greater to the Force value. For the first turn, that number is four, so they have to find a strike from their own deck with an intercept of four or greater. How do they do that? They flip the top card of their deck into their green "flip here" area. If the card they flip is a Strike with an Intercept value of 4 or better, they have successfully defended the strike, and can now counterattack after paying the payment cost. If you do not flip a strike over, but you flip an Ally over, you can still play the ally card, as long as you can meet the payment cost. If you do decide to play the ally card, pay the payment cost and put it in the ally zone of the section you are defending, follow the card's ability, and continue defending that zone. Same for the Advantage cards, if you wish to pay the advantage, pay the payment cost and move the advantage to your advantage zone, follow any card ability and continue to defend the zone.
If you cannot meet the payment cost for any card, or do not wish to play that card, you can "Focus" the card by immediately placing the card face down in your energy zone (thus the card becomes an additional energy). You have not successfully defended that zone, and you are now defending the zone one level down. If you cannot defend from your green zone, you move to your yellow. If you cannot defend from your yellow zone you move to your red. If you cannot defend from your red zone, then your opponent immediately earns a point, gets to celebrate and we move back to the opening attack, however, if you lose a point you don't get to add any energy. You do get to choose who has the next opening attack though. The game ends when one player has scored three points.
- Subsequent Attacks -
Once you have successfully defended your opponent's attack, you can counterattack, by turning your strike card sideways and declaring a counterattack. You are now counterattacking from the zone you were defending with a Force that is printed on the card. It is important to note that many allies and advantage cards, as well as the strike cards themselves have modifiers to your force and interrupt values, so keep track of every modifier on the board. Forgetting to add your modifiers can really cause you to lose the game if you're not careful.
After you counterattack your opponent gets to clean up and replenish. Clean up involves placing your last strike card in your discard pile and discarding all advantages from your advantage zone. Note – ALLIES ARE NEVER DISCARDED DURING THE CLEAN UP PHASE. To replenish, you add a single energy for each zone that you defended. If you defended from your green zone, they get one green energy. If they defended from the yellow zone, they get one green and one yellow. If you defend from your red zone, they get one green, one yellow and one red. If they score a point, they don't get to add any energy at that point, until they "celebrate".
- Signature Moves -
If all three of your zones are charged, at this point you can play your current signature move after your cleanup and replenish phase by immediately uncharging all your zones and pulling out the hidden signature move from your Chamber Card. This strike and counterattack is considered not to be defending any specific zone. Once you play your signature move (paying any payment costs if necessary), you treat the signature move like any other strike card. Because you did not play a strike from a specific zone, your opponent does not get to replenish after this attack. Once your signature move has been played and you have either scored a point, or your opponent has successfully defended and is counterattacking, you close your chamber and flip the card over. When all three of your zones are successfully charged again, you can use your other signature move. If you use both signature moves, you flip the card over again and start with your first one.
- Celebration Time Come Home –
Celebrations take place after you score a point, and all it really means is that you get to add an energy to each zone where you have an ally card. There are a few cards that have specific celebration effects, such as adding an extra energy or not being able to add an energy. The person who got the point score against them gets to choose who gets the next opening attack, and the process starts over again, though again, you do not remove your Ally cards during the mutual clean-up phase that follows a celebration. The player celebrating also does not remove Advantage cards during this mutual clean-up phase.
- Tips and Tricks -
That's a quick overview on how to play the game. As you collect more cards you can form a 60 card constructed deck by only placing strikes, ally and advantage cards that have the same traits as your Chamber Card. There are 10 different characters represented by chambers, and each character has five different strike combinations (with one reprinted). Allowed traits do not change between chambers, so any Will Turner chamber will have the same traits as any other Will Turner chamber, even though the signature moves may be completely different.
Finding the right balance between Strikes, Allies and Advantages in your deck is the key strategy in this game, since you have no hand, all your skill is going to be used in creating your deck. Even with over 250 cards, I can barely put together a decent deck for each of the different characters that I've acquired. I have 8 different characters currently and 17 different Chamber Cards. So far I'm only missing Barbossa and Jack Sparrow. The difficulty in putting together decks is that within each allowable trait there's only a limited amount of cards you can use, with the rare cards being the better cards. Each strike trait has 20 different cards, with an additional 20 generic strikes. Each ally trait has 10 different cards with an additional 10 generic allies, likewise for the Advantages. Being that Quickstrike is a shared game system, cards from the previous Quickstrike game, Avatar the Last Airbender are fully playable, as long as they have the same trait, so if you're interested in additional cards, you may wish to check out that game as well, because assuredly competitive tournament decks will include cards from both games.
Unique to each set though is a series of strikes adhering to the theme of that set. For PotC those are strikes that are sailing oriented, sailing combat oriented or sword dueling oriented. There are an addition 10 strikes available in each of these three traits. Finally each set has a small series of foil special cards. In PotC these are beautiful gold-doubloon advantage cards. These doubloons can only be used with the specific character on the front of the card. There is one for each character.
Once you have your decks created, game play is quick and breezy. The unique nature of the energy system gives the game the feeling of an epic battle between titans, and just when you think you might be done for, you pull a fantastic strike that wins you the game. The first couple of points scored though, seem to take the longest time. Points are usually score when you can no longer pay the payment cost of the card you've flipped. Very rarely do you flip a strike that you can't defend with, more often you can't actually play the strike because you don't have enough energy.
Beware of those cards that require a red energy. These are the hardest to replenish, and are the most valuable, since you can use them to pay for any energy cost. If you have, say 3 Green and 1 Red energy left, and you flip a card requiring 2 Green and 1 Yellow, you can pay the yellow cost with a red energy. Red can pay for green or yellow, and Yellow can pay for Green. Also pay close attention to the both the force and the intercept value of the card. A strike with an 8 Intercept and 2 force may seem like a great card, but it really isn't. Sure you can stop your opponent's attack, but your counterattack will most likely be defended in your opponent's green zone, giving you only one green energy when you defend.
Too many allies can result in you paying energy costs for assistance that you may not need, and spending too much energy deploying (moving certain cards with that keyword to empty ally spaces), and you'll be left with no energy to actually pay for your strikes. Too many advantage cards can actually hinder your deck as well, if you can't get the advantage to come out in the right zone. Playing an advantage in an already charged zone is pretty much a waste of time and energy.
I have yet to see a signature move that was truly game breaking anyway, so while it's really cool to play signature moves, they most often won't be winning any points for you.
- Collecting -
So far there is no secondary market to speak of for this game. Since the game is so new, there are very few auctions on EBay for anything other than sealed packs, boxes or starters. However, given the popularity of the license, and the beauty of the cards, plus the ease of adoption, I can see this game taking off over the next couple months. Doubloon cards are seeded at a ratio of 1 in 6, though two starters and 13 packs I've already pulled five of them (two are doubles though). I would imagine that the initial cost on these would be about $10 each, though depending on the character that could be lower or higher. The Davy Jones doubloon card is particularly worth playing, and should be at the top end of the spectrum on pricing. The Pintel and Ragetti card, however, is actually pretty crappy, and since they are not as popular as the other characters, won't be seeing much action on the secondary market.
Chambers come one in a pack, and only the rare chambers will garner any additional value. The inclusion of Jack Sparrow, Will Turner or Elizabeth Swann on cards will definitely add some value though. Each of the main characters also has a rare Ally card with fairly good abilities. These will probably go in the $5-10 range. Most rares should sell for $5 or under, with uncommons maxing out at $1-2. Investment wise, a purchase of two-three boxes should provide you a complete set, though sets by themselves will not be play worthy at all. In order to create a quality tournament level deck you'll need full play sets of the best strikes, and that may set you back some dough, since the best cards are all rare.
Trading wise, you're probably best to stick to card type for card type. If you have a rare doubloon you should probably hold out for a rare doubloon in return. Likewise, rare chambers should go for rare chambers. Though it's entirely possible to pull a triple rare pack (rare chamber, rare card and gold doubloon), it's probably very difficult to actually get one. Rare Chambers are definitely fewer and farther between (I have one so far).
So if you're looking for something different this summer, games with built in expansions already, look no further than Quickstrike.
The set composition is as follows: