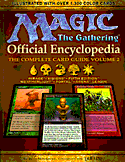 A pretty cool book. This book picks up where Volume 1 left off. It features over 1,300 cards from: Mirage; Visions; Fifth Edition; Weatherlight; Arena League; and Portal. Every card is again printed in full color, and the book is 8-1/2" x 11". The quality of paper used in this book, and Volume 1, is exceptional. The most useful cards of each set are highlighted.
This book is great for constructing decks for the tourneys you are most likely to enter. This is one book I personally would not be without. Another good use for this book: You can order packs of inexpensive foreign cards. Again, good for your personal library. Save about 4 bucks at Amazon.com.
Order this book on-line from Amazon.com.
About This Site | About Amazon.com | Book Reviews & Bookstore | Magic Links
Magic The Gathering, Chronicles, Ice Age, Alliances, Arabian Nights, Antiquities, Legends, The Dark, Fallen Empires, The Dark, Homelands, Mirage, Visions, Fifth Edition, Weatherlight, Portal, Arena League, Tempest, Stronghold, and Exodus are registered trademarks of Wizards Of The Coast, Inc. Wizards of the Coast, Inc. is not associated with this web site.
Copyright - post-box.com, Last update 09/30/05