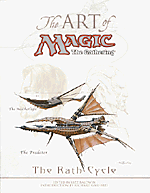 The Art of Magic : A Fantasy of World Building and the Art of the Rath Cycle
This is basically a coffee table book. An art book, filled with images, artist sketches (black & white, and color), and some text behind the Rath Cycle. This book is nicely sized at 8" x 10", and 128 pages long.
The art is wicked cool to look through a few times, but it ain't gonna help make you a better player on the tourney scene. If you collect MTG cards for the artwork, then this book could be for you.
The book does explain all the charachter in the Rath Cycle in detail, if you are into that sort of thing.
This book retails for $20, and you will have to shell out about 16 beans to get it from Amazon.com.
I don't really rate books based on art, I rate books based on content of playing the game Magic: The Gathering. You'll have to judge this one for yourself, as there is nothing else like it. It is pretty cool to look through.
Order this book on-line from Amazon.com.
About This Site | About Amazon.com | Book Reviews & Bookstore | Magic Links
Magic The Gathering, Chronicles, Ice Age, Alliances, Arabian Nights, Antiquities, Legends, The Dark, Fallen Empires, The Dark, Homelands, Mirage, Visions, Fifth Edition, Weatherlight, Portal, Arena League, Tempest, Stronghold, and Exodus are registered trademarks of Wizards Of The Coast, Inc. Wizards of the Coast, Inc. is not associated with this web site.
Copyright - post-box.com, Last update 09/30/05