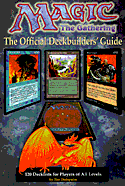 Magic: The Gathering - The Official Deckbuilder's Guide.
Produced in association with WOTC. This is fairly new book, published in early 1998. The book contains details on how to build 120 different decks. The book is 6" x 9", and 144 pages.
This book is essentially a decktester's dream. The decks include 5th edition, Portal, Type I, Type II, Theme decks (like a deck of cards by 1 artist), Multi-player, Extended, and Classic-Restricted Type 1.5.
Each deck is given 1 full page of coverage, with the card list to make it, including sideboard. A helpful touch is that there is a quick info box on top of each page with: Type of deck (beginner deck, tourney deck,..); Colors (green, red, ...); Strategy (...use weenies to crush your opponent); Cost (category of price to buy and make the cards in the deck (very low through very expensive); DCI Tourney Category (Type II ..); and the card count (60 main deck, 15 sideboard). This little info box is handy. If you are looking to make a competitive red/green Type II deck from all common cards, you'll quickly find it. If you want to make a Type I deck that will cost you $1500, that's here too. The remainder of each page is dedicated on the strategy for playing the deck.
If you are into building and testing a variety of decks, you'll love this book. Simple and straight-forward. Somewhere around $11 at Amazon.com. This book can also come in handy to make some decks for manalink on TEN.
Click here to order this book at Amazon.com
About This Site | About Amazon.com | Book Reviews & Bookstore | Magic Links
Magic The Gathering, Chronicles, Ice Age, Alliances, Arabian Nights, Antiquities, Legends, The Dark, Fallen Empires, The Dark, Homelands, Mirage, Visions, Fifth Edition, Weatherlight, Portal, Arena League, Tempest, Stronghold, and Exodus are registered trademarks of Wizards Of The Coast, Inc. Wizards of the Coast, Inc. is not associated with this web site.
Copyright - post-box.com, Last update 09/30/05