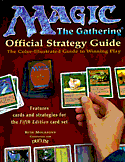 First off, this is an absolutely beautiful book. The book is fully illustrated, in color, on high quality paper. It is current (1997), and contains Fifth Edition Cards. This book is more than a simple how-to-play guide. It contains detailed info on: Rules; Deck Building; Creature Combat; and the timing on playing cards in your duels. Size is 7-1/4" x 9-1/4".
O.K., I'm going to be blunt ... This is absolutely the best book for a beginner to buy. I can't think of any book that will teach you the finer details of the game better than this. As a beginner, photos of actual cards help immensely in learning the game. Only "Official" books show the actual cards. This book is great for a beginner who wants to advance to intermediate and tournament level play. The book is dedicated to teaching you all about the strategy of playing with the 5th edition cards. There is a fantastic attack sequence description in this book. The book also details banding, instants, and interrupts which can be very confusing to beginners. Good information is also included for creating and playing with the 5 basic decks: an inexpensive Weenie Deck; a Big Creature Deck; a Burn Deck; a Permission Deck; and a Land Destruction/Discard Deck. Sugg. Retail Price is $16.95, so its about $14 at Amazon.com. If you are new to M:TG, this book should be at the top of your list. You won't be disappointed. Beth Moursund is about the best M:TG author out there.
If you are a very experienced M:TG player, I'm guessing you probably won't learn a whole lot. But then again, this book is actually cool to read, and the quality is top notch. Beginners note: In addition to this book, you should probably also grab Magic Cards Simplified. (only about $6).
Order this book on-line from Amazon.com.
About This Site | About Amazon.com | Book Reviews & Bookstore | Magic Links
Magic The Gathering, Chronicles, Ice Age, Alliances, Arabian Nights, Antiquities, Legends, The Dark, Fallen Empires, The Dark, Homelands, Mirage, Visions, Fifth Edition, Weatherlight, Portal, Arena League, Tempest, Stronhold, and Exodus are registered trademarks of Wizards Of The Coast, Inc. Wizards of the Coast, Inc. is not associated with this web site.
Copyright - post-box.com, Last update 09/30/05