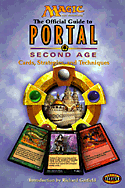 O.K. - This book is almost an exact replica of the first official Portal book. So much so that I can use the exact same review. I will add some new stuff to the end.
"I must admit that Beth has turned into me favorite writer of Magic books. Beth also is fortunate enough to have all her books be "Official" books, meaning they contain actual photographs of cards. The book is full color, on nice glossy paper.
If you are new to Magic, and are learning Magic by playing Portal, then you should really grab this book. Portal is an easy-to-play starter version of M:TG. If you are teaching your kids how to play M:TG, do yourself a favor, and start with Portal cards.
This book is written in Beth's nice and easy to understand format that I have grown to love. She does a great job of taking difficult concepts, and explaining them beautifully.
This book explains playing lands, creatures, and sorceries. The book explaings Magic jargon, and also touches on deck building, tournaments, and the artists.
Finally the book displays actual full color reproductions of all the cards in the Portal (Second Age) Set. This is great as new players can look at each card to help them see what they can collect, and what will help them make better decks. I guess there are over 200 Portal (Second Age) cards shown in here."
What's different about this book? 1. It shows all the new Portal 2 cards, and, 2. It gives you a few more recommended decks to copy. That's about it. Still the book is great if you are just getting into Magic. If you already have the first book, the only reason to buy the second book is to see the new cards.
Fair warning: Most Portal cards are illegal to use in Official Magic Tourneys.
This book is officially priced at $10.95, meaning it will cost you under $8.99 at Amazon.com
Order this book on-line from Amazon.com.
About This Site | About Amazon.com | Book Reviews & Bookstore | Magic Links
Magic The Gathering, Chronicles, Ice Age, Alliances, Arabian Nights, Antiquities, Legends, The Dark, Fallen Empires, The Dark, Homelands, Mirage, Visions, Fifth Edition, Weatherlight, Portal, Arena League, Tempest, Stronhold, and Exodus are registered trademarks of Wizards Of The Coast, Inc. Wizards of the Coast, Inc. is not associated with this web site.
Copyright - post-box.com, Last update 09/30/05