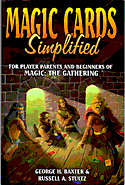 This was one of the first books I ever bought. At the time, I was looking to teach my daughter the game, and this one obviously caught my eye. This is a newer book, published in 1997. It is another book written by George Baxter (he is starting to feel like an older brother to me). It is sized at 6"x 9", and 125 p. This is one of the books to get if you are a beginner and want to learn how to properly play M:TG.
The book tells you the minimum cards to buy when getting started (start off with at least 2 starter packs, and 5 boosters), how to separate your cards, and make a fairly competitive first deck. They then walk you nicely through all the phases of game play, and play through a complete game (twice, once from each player's perspective - this will be nice for a beginner). Then the book goes on to tell you how to build 15 different decks from inexpensive cards. At about $6.50, the beginner really can't go wrong at Amazon.com. If you are just starting to learn, I highly recommend this book. This book can also help a beginner prepare for a sealed deck tourney by showing you how to separate, sort, and evaluate your cards properly.
Order this book on-line from Amazon.com.
About This Site | About Amazon.com | Book Reviews & Bookstore | Magic Links
Magic The Gathering, Chronicles, Ice Age, Alliances, Arabian Nights, Antiquities, Legends, The Dark, Fallen Empires, The Dark, Homelands, Mirage, Visions, Fifth Edition, Weatherlight, Portal, Arena League, Tempest, Stronhold, and Exodus are registered trademarks of Wizards Of The Coast, Inc. Wizards of the Coast, Inc. is not associated with this web site.
Copyright - post-box.com, Last update 09/30/05