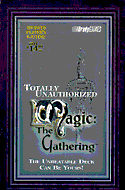 Totally Unauthorized Magic: The Gathering - Advanced Players Guide.
This book is a change of pace from most books. This book is dedicated to Type I environments only. The book has 9 chapters written by 9 different authors. Each author is a kick-ass Type I tournament player, (including 1st and 2nd place National Champs). And each author writes about his kick-ass Type I deck. The book is nicely sized at 5-1/2" x 8-1/4", and over 350 pages long.
The 9 deck builders are: Matt Hyra, Michael W. Dove, Brian Weissman, Mario Robaina, Mark Justice, Jack Stanton, Henry Stern, Adam Maysonet, and Mark Chalice.
I sure as hell don't have the money to obtain the cards to play these decks. The average cost to make one of these decks has to be well over $1500. But that doesn't mean I didn't like this book. I loved it. In my opinion, this is quite simply the best M:TG book available. Each author details every single card in his deck, and explains how to use each card with his deck. (Totally Cool). Many of these individual cards are still available for Extended and Type II use. Some authors spend up to 4 pages explaining the use of one single card in their deck!
This book is tough to find, so Amazon.com doesn't really discount it. But I think its worth the $$, and a few weeks wait! This is a great book for building Type 1 decks on TEN too. Make Amazon.com special order this puppy. Its worth it.
I wish someone would make an updated version of this book for Extended, Type 1.5, or Type II.
Order this book on-line from Amazon.com.
About This Site | About Amazon.com | Book Reviews & Bookstore | Magic Links
Magic The Gathering, Chronicles, Ice Age, Alliances, Arabian Nights, Antiquities, Legends, The Dark, Fallen Empires, The Dark, Homelands, Mirage, Visions, Fifth Edition, Weatherlight, Portal, Arena League, Tempest, Stronhold, and Exodus are registered trademarks of Wizards Of The Coast, Inc. Wizards of the Coast, Inc. is not associated with this web site.
Copyright - post-box.com, Last update 09/30/05