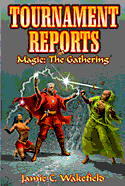 This book is based on the author's personal experience of pro/tournament play. The book is 6" x 9", and 168 pages. The book has a list price or $14.95, meaning it will cost about $12 bucks at Amazon.com. This book is pretty new (at least as Magic books go right now) - 1998 publishing date.
If you are looking for deck construction advice, then this book is probably not for you. This book is essentially a kick-ass autobiography on the M:TG life & times of the author. I loved this book. It is cool to live through Jamie on the ups & downs of trying to make tourney cuts. Nothing is sugar coated. Reading this book is like talking to one of your buddies, while sucking back a cold one. I got a some good belly laughs out of the book, and a deeper understanding Magic in general. I highly recommend this book if you want to read some good stories about Pro-Tours and Qualifier's, from a good player's point of view. Just plain old fun to read. Once I picked it up, I couldn't put it down.
Note: The author really assumes you have a pretty good understanding of Magic. This is not a beginner's book. There is a lot of jargon that will go over a beginner's head. But then again, I really think this will help a beginner
Click here to order this book at Amazon.com
About This Site | About Amazon.com | Book Reviews & Bookstore | Magic Links
Magic The Gathering, Chronicles, Ice Age, Alliances, Arabian Nights, Antiquities, Legends, The Dark, Fallen Empires, The Dark, Homelands, Mirage, Visions, Fifth Edition, Weatherlight, Portal, Arena League, Tempest, Stronhold, and Exodus are registered trademarks of Wizards Of The Coast, Inc. Wizards of the Coast, Inc. is not associated with this web site.
Copyright - post-box.com, Last update 09/30/05