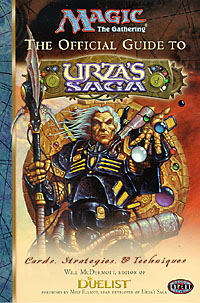 Produced in association with Wizards of the Coast. Book is 6"x 9", and 124 pages long. This is a pretty straight forward book. The book is beautifully constructed. Every page is in Living Color. None of the pages are white, they are nice high gloss paper.
The first 10 pages or so deal with the Urza's Saga Storyline. The next 50 pages provide card analysis discussing strengths, weaknesses, and uses for each Urza's Saga card. The analysis is about 1 to 2 paragraphs long, but useful. The next 60 pages contain reproductions of each card from Urza's Saga in full color.
This book is in full color on nice glossy paper. If you are looking for full color reproductions of each card and some simple card analysis for Tempest, then look no further. Priced at about $13.50. Urza's is a very powerful set for cards with new powers (cycling, echo, free spells, perpetual enchantments, growing enchantments, embrace cards .. YIKES!), and this book and help you understand them better. Urza's Saga is a pretty cool set of cards.
Order this book on-line from Amazon.com.

About This Site | About Amazon.com | Book Reviews & Bookstore | Magic Links
Magic The Gathering, Chronicles, Ice Age, Alliances, Arabian Nights, Antiquities, Legends, The Dark, Fallen Empires, The Dark, Homelands, Mirage, Visions, Fifth Edition, Weatherlight, Portal, Arena League, Tempest, Stronhold, and Exodus are registered trademarks of Wizards Of The Coast, Inc. Wizards of the Coast, Inc. is not associated with this web site.
Copyright - post-box.com, Last update 07/06/06